It's so exciting to pack your bags when you are heading off on an adventure. You need to make sure you fill your suitcase with clothes that not only look great, but are comfortable to wear and don't need ironing at the other end, because who wants to waste their precious holiday worrying about wrinkly clothes. We have a great selection of resort wear pieces that are great for covering up your swimsuit, but will easily double up for heading out to dine or go sightseeing.
All of these pieces are made from fabric that does not easily crush, will dry really quickly so you can give them a quick hand wash and hang them up in the shower and they will be ready to wear again the net day.
This colourful loose fitting A line dress from SUNFLAIR® is super comfortable and has a real holiday vibe. Even if you overindulge at dinner it will not be tight around the tummy.
A caftan style top is one of the most versatile pieces you can add to your travel wardrobe. They help to keep you cool when its really hot. The lightweight fabric dries super quickly if you put it on over a wet swimsuit and can be mixed and matched with leggings, pants or a skirt for a more formal look. This delightful one is from SUNFLAIR®.
A long line tshirt just like this one from SUNMARIN® is another piece that is great on its own or layered with your choice of bottoms.
A long dress can be great to help keep the sun off your legs when you are out and about during the day. This gorgeous one from OLYMPIA® can easily be dressed up for dinner with the addition of heals and a little bling.
Resort wear does not get much more versatile than this delightful multi-style from SUNFLAIR®! The elasticized band works perfectly around the bust or pull it down, add a pretty top and wear it around the waist as a skirt. Once you have one of these in your travel wardrobe, you won't know how you ever lived without it.
Another luxe caftan style option from OPERA®. Provides great sun coverage for your arms and can easily be dressed up for a fancy lunch or dinner.
To help your clothes look their best when you arrive at your destination try rolling them instead of folding before you put them in your suitcase. Packing cubes are another great way to keep things super organised and reduces creasing as things do not move around as much.
Don't forget to pack a little pouch of gentle fabric detergent so that you can quickly wash your swimwear and resort wear pieces to keep them in their best condition and clean ready for another day of fun.
These fabulous fashion items are available for sale in Australia and New Zealand at our specially selected boutiques. To find the closest store or to become a stockist please email [email protected] and we will be in touch promptly.
No matter what your shape, we can help you find the perfect bikini to flatter and support your figure. The time for bikini's only being suitable for the young and super slim has passed and now designers ensure that variety in both top and bottoms is so varied that you don't need to miss out. There are lots of new bikini styles for all shapes available now.
Here is just a snapshot of a few styles that show how varied are the designs available in this latest release from our four brands.
No matter what your age, you can look and feel amazing in a bikini and we are here to help you find one today!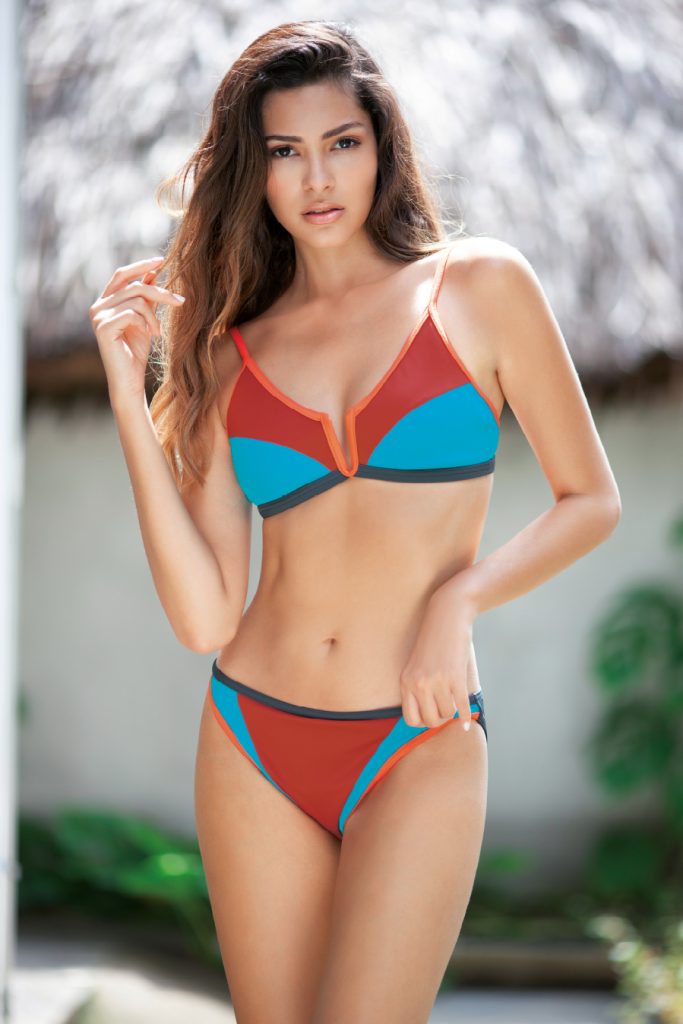 This bold and bright bikini from OLYMPIA® is a statement set. It may provide minimal coverage, but features a spacer bra for shape and support.
This pretty floral print from SUNMARIN® features a boyleg pant. This style is great for ladies that have a straight shape as it helps create the illusion of curves.
This modern print from SUNFLAIR® has a fuller top that provides great coverage for teens or ladies that appreciate a more modest style. The bra does contain an underwire for full support.
A lush print combined with a generous cut brief make this stunner from SUNFLAIR® a great choice for any lady. In addition to a beautiful cut, this bra does include an underwire for creating a great cleavage.
The high cut pant is starting to sneak back into bikini designs. This fabulous set from SUNMARIN® is a great style choice if you want to create the illusion of longer legs. That's a great reason to bring back this popular cut from a decade ago.
Daringly different, this stunning bikini from luxury brand OPERA® will help you stand out from the crowd.
There are lots more designs available from this release. Further options include mix and match bikini tops and bottoms so that you can 'build' your perfect bikini.
To find your closest boutique or online shop in Australia or New Zealand, please refer to our stockists page for a full list or email [email protected] and we will be in touch promtly.